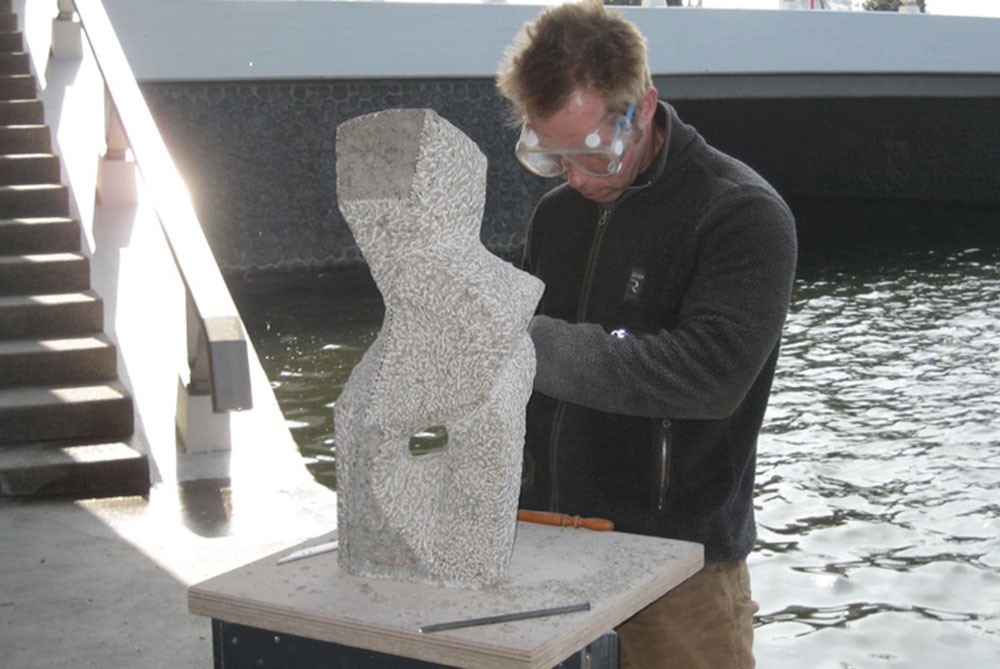 THIJS WESTERBEEK
Sculptor
Thijs Westerbeek van Eerten (1960) has been sculpting since he was 12 years old, but only turned professional in 2004. This followed his four year training by Dutch sculptor Dirk van de Velde at the Amsterdam sculpting school 'Onder de Bogen'.
Since then he has had four solo shows and participated in five group exhibitions in The Netherlands, Flanders and Wallonia. He has been teaching sculpting since 2012 at weekend courses in the Belgian Ardennes.
Thijs' sculptures are mostly quite organic and abstract. They invite the viewer to touch or even caress them. He loves to bring out the beauty of the stone by simplifying shapes as much as possible with few or no details, less is more.
Some of his sculptures are carefully planned and designed, though quite often the shape 'just appears' naturally while he is hammering away.
He believes sculpting is a craft and should take time and effort. That is why even his pieces in marble and Belgian hard stone are entirely made by hand, without mechanical equipment.
GALLERY
– Feb 2020 –  EM StudioGallery, Amsterdam

EXHIBITIONS 2019 / 2020
–  Mei 2014: galérie 'La Potèle', Rochehaut, Belgische Ardennen. Solo expositie. Zie Nieuws-sectie
–  Januari-december 2013 : 'Sport- en Therapiecentrum Hermes', Nederhorst den Bergh
–  Juli-September 2012: galerie Exit Art Amsterdam
zie hier een video-impressie
–  April-Juli 2011 : galerie 'de Bekoring', Wijk bij Duurstede
–  Juni-Augustus  2009 : Festival d'art Château de Lavaux Ste Anne, België. Groeps expositie.
–  April-Mei 2009 :  galérie 'La Potèle', Rochehaut, Belgische Ardennen. Duo expositie.
–  Mei 2008 : galérie 'La Potèle', Rochehaut, Belgische Ardennen. Duo expositie.
–  Augustus-November 2006: expositie 'Café Thuys' Amsterdam
–  Juni 2005: thuisexpositie Amsterdam
EM STUDIO GALLERY
WITTE DE WITHSTRAAT 2
1057XV AMSTERDAM
WANT TO EXHIBIT WITH US?
+31 850470422
Opening hours Gallery
Monday to Saturday:   10:00 – 18:00
(SUNDAY Open DURING the  EXHIBITIONS AND by appointment outside our usual opening hours)